And it's a wrap. Thank you to everyone who participated and we hope to see you again next year!
This is the fifth annual Awesome Ladies Podfic Anthology! This year, the Anthology consists of 141 woman-centered stories by 108 different authors and 63 different podficcers in 77 fandoms!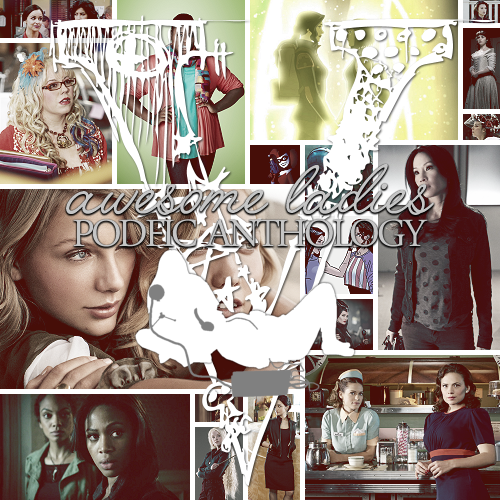 cover art by
bessyboo
Listening options:
Links to the text of the fics, where you can celebrate the awesome authors, are included in the Comments section of all the mp3 files, as well as the spreadsheet with the individual podfic links. Thank you
knight_tracer for many hours of heroic work in beta-listening, track ordering, and cleanup editing.

If you'd like to leave feedback for some or all of the readers in this collection, feel free to comment on this post! You can also follow them to their individual journals, tumblr accounts, or AO3 accounts to find more of their work:

aethel,
applegeuse,
argentumlupine,
ashesandghost,
audrey1nd,
bessyboo,
blackglass,

cee_m,
cricketk,
croissantkatie,
crookedspoon,
dapatty,
digitalviolets,
dr_fumbles_mcstupid,
duckgirlie,
eosrose,
finnagain,
fire_juggler,
forzandopod,
growlery,
hananobira,
hardboiledbaby,
heuristicdevice,
inkjunket,
isweedan,
itsadrizzit,
jelazakazone,
jesperanda,
juniperphoenix,
kalakirya,
kdheart,
klb,
knight_tracer,
lunate8,
marianas,
miss_marina95,
opalsong,
originally,
podcath,
reena_jenkins,
rhea,
rivers_bends,
rscreighton,
saffronbunbaker,
semperfiona,
send_reinforcements,
silly_cleo,
sly_hostetter,
sophinisba,
starduchess,
susan_voight,
sylvaine,
templemarker,
thankyougreenberg,
theleanansidhe,
themusecalliope,
tinypinkmouse,
vassalady,
were_duck,
wesle,
yue_ix
Endless Roads to Travel, Endless Lives to Live
, by
snacky
Three adventures Polly Plummer never had, and two she gave to others.
Concerning the Daily Maintenance of a Large Country House
by
wingedflight
People were always falling into Adventures in the Professor's house.
Diplomacy with Giants
by
Shabby Abby (KJPearl)
When the Narnian rulers hear about giants killing their subjects Susan and Lucy must go investigate.
Love So You Can Let Go
by
vialethe
Lucy knows love in many forms, but there's still one she can't understand quite yet; luckily, she's always been the inquisitive sort.
That We May Hear the Whispers of the Gods
by
rthstewart
When a goddess feels she's owed, the wise woman will pay up, with interest.
"...the marks of that which once hath been"
by Heliopause/
heliopausa
Their story began with wonder and delight, as they each discovered in the other what seemed another self.
But what was real and what was illusory? Was change? Or constancy? Or choice?
Gone to Vinegar
by cofax/
cofax7
Susan has hardly spoken since Boris opened the door to Lucy's room, with its shattered windowpanes and Father Christmas's gifts abandoned on the torn bedclothes.
The Narnia Fic Exchange 2014 had some wonderful female-centric fics; I hope the community enjoys looking through this list.
Title:
Awesome Ladies Wallpaper Set (Volume 3)
Prompt:
for
halfamoon
2015 (celebrating female characters)
Rating:
G (completely work-safe)
Size:
1200 x 800 each
Quantity:
total of 111 wallpapers
Fandoms:
The Addams Family (1) Agent Carter, Marvel (2) Agents of SHIELD, Marvel (2) Aladdin, Disney (1) American Girl (2) Arrow (3) Atlantis: The Lost Empire, Disney (1) Back to the Future (1) Beauty and the Beast, Disney (1) The Big Bang Theory (1) CardCaptor Sakura (1) Cinderella, Disney (2) Cinderella, Rodgers & Hammerstein '57 (1) Cinderella, Rodgers & Hammerstein '97 (1) Criminal Minds (2) Disney Designer Princesses (10) Disney Designer Villains (6) Firefly (3) The Flash (1) Forever (1) Fraggle Rock (1) Frozen, Disney (2) Galavant (2) Girl Meets World (2) Gotham (2) Guardians of the Galaxy, Marvel (1) Harry Potter (3) Howl's Moving Castle (1) The Hunger Games (1) The Legend of Holly Claus (1) The Little Mermaid, Disney (1) Maleficent, Disney (1) Mulan, Disney (1) The Muppets (1) The Mysteries of Laura (1) Nancy Drew (1) NCIS (4) NCIS: Los Angeles (1) NCIS: New Orleans (2) Orphan Black (3) The Princess and the Frog, Disney (1) The Princess and the Pauper, Barbie (2) Rapunzel's Revenge (1) Rizzoli & Isles (2) Sailor Moon (3) Santa Claus Is Comin' to Town (1) Scorpion (2) Selfie (1) Sleeping Beauty, Disney (1) Sleepy Hollow (1) Snow White, Disney (1) Stargate (1) Stargate SG-1 (5) Star Trek: The Original Series (3) Star Wars (2) Thor, Marvel (1) Torchwood (1) Veronica Mars (1) WALL-E, Disney (1) X-Men (3) X-Men: First Class (1)
LINK:
http://ami-ven.livejournal.com/547601.html
Current Music:

Snakefarm - Laredo
My yearly fanvid rec post - vids of 2014 focused on female characters. 37 vids in 28 separate fandoms (and one multifandom).
Tell us about your favorite female friendships! How did they become friends? What do they do to show their love for each other? How far are they willing to go to support their friend? What is is that makes them special?
Weakness
:
What are her faults? Her failings? The areas she needs to work on? We don't like our favourite characters to have a weakness, but the well-rounded ones always do.
Post it to one of the comms, to the
AO3 halfamoon collection
, or just link up to it here.
halfamoon |

halfamoon |
halfamoon-challenge
If you're posting on Tumblr, don't forget to tag it with "
halfamoon challenge
" so the
halfamoon-challenge
Tumblr can reblog it!
For Day 12 of Halfamoon, the prompt is
Family, Friends, and Allies
:
Who does she trust when it comes to the crunch? Where does she go when she needs to recoup? Who's her 'family' - in the broadest, emotive sense of the word? Tell us about her relationships, the people she loves and relies on.
Post it to one of the comms, to the
AO3 halfamoon collection
, or just link up to it here.
halfamoon |

halfamoon |
halfamoon-challenge
If you're posting on Tumblr, don't forget to tag it with "
halfamoon challenge
" so the
halfamoon-challenge
Tumblr can reblog it!
For Day 11 of Halfamoon, the prompt is


Rules nicked from bofoddity:


1. Start a thread and put the character's name and the canon they come from in the subject line.

2. Those who love the character comment on the thread with squee, thoughts, fic/art/vid recs, picspams, essays, links and everything they can think of. Make sure your character gets all the love and the attention she deserves.

3. If a character has a thread and you want to talk about her, comment to the thread in question. General comments and threads for new characters go to the main post.

4. Focus on the love. This is an all positivity, all time post. Embrace your happy!

5. Absolutely no bashing allowed. Please avoid making negative comparisons to other characters, other character types and "well this character sucks more!" kind of comments. Those characters and character types have their fans too and hey, it's a love post. Save negativity for other things.
No bashing actresses or the other versions of the character either. Keep in mind that mileages vary and what doesn't work for you may work for someone else.
This post is for celebrating and loving your favorite under-appreciated women.